The backbone of the cryptocurrency industry is cryptocurrency exchanges. They help trade cryptocurrency assets and generate passive income from their possessions. Making an appropriate and comprehensive platform for your business is crucial if you're an entrepreneur entering the cryptocurrency exchange market because it will help you flourish in the expanding sector.    
Every day, new exchanges pop up, attracting people with several benefits and cutting-edge features in Binance. The best news is that you can create a CEX similar to Binance and profit from your knowledge of blockchain technology and business concepts for cryptocurrencies. Here, we will look in detail at how to create a cryptocurrency exchange and how to expand your venture for long-term success.
Understanding about the working of binance
A CEX called Binance enables users to carry out some transactions with more than 1,000 cryptocurrencies. For every cryptocurrency asset registered, the user purchases or transfers from a non-custodial wallet to Binance. Money is stored in this custodial wallet. The transaction fees are cheaper for traders that use the internal Binance Coin (BNB) for commission covering.
Exchange Features: A spotlight on what's inside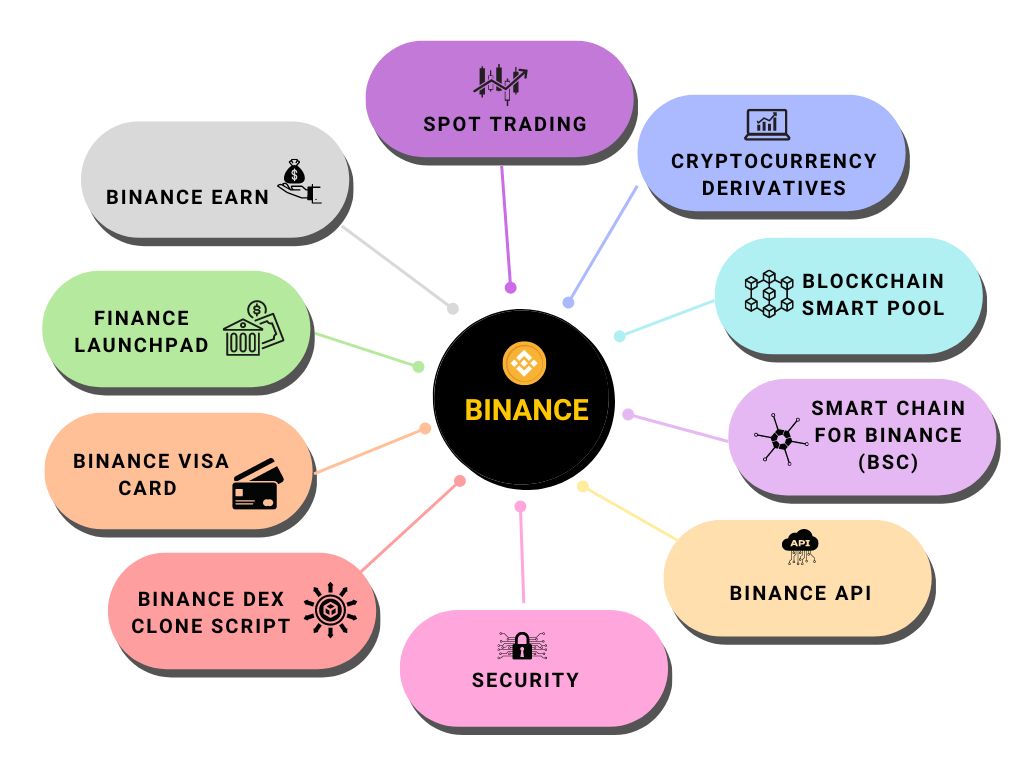 Binance is recognized as a CEX because it ticks all the KYC requirements for registering new users. Simple steps are required to join Binance, including account registration, verification, and a KYC check. After that, you can add money to your wallet and begin trading in a peer-to-peer (P2P) or exchange sector. Here is a quick rundown of Binance's key attributes.  
Cryptocurrency derivatives
With derivative trading, things are different because you don't own any physical assets. You exchange obligations more with futures and options. These derivative instruments function similarly to contracts for price growth or decline, and your success or failure rests on making the correct prediction.
Blockchain smart pool
Miners use the Binance platform for secure mining with assured returns. It will be of great benefit to this service. 
Smart Chain for Binance (BSC)
BSC is an effective toolbox with some features for creating your own Blockchain projects.  Projects powered by BSC are seamlessly included into the BSC ecosystem and reap the advantages of increased security and interoperability.     
Binance API
Despite having a lot of features, many find Binance to be inadequate. Linking Binance through third-party apps using the RESTful Binance API for automation trading. As a result, you can choose a third-party trading platform and connect it to your Binance account. This platform should have a wide range of automated trading settings, Algtrading, and other AL-powered functions. 
Security
Binance has used several features to ensure users' security, which is crucial in the digital world. It starts with the SAFU insurance of using cash for emergencies. It also has address whitelisting, which restricts withdrawals to address validation by the user. 
Binance Dex clone script
With the help binance clone script feature, you can quickly create a copy of Binance and customize it to your preferences. This option only supports a small number of cryptocurrencies and limits their uses.
 Binance visa card
The Visa card from Binance, a unique brand offering, makes it simple to convert crypto assets into fiat currency into fiat and vice versa. Binance VisaCardholderss always receive high commission rates.
Finance launchpad
This replication of unique quality in Binance from other CEX is an advantage. It serves as an incubator for talented entrepreneurs to use the Binance platform to reach a wider audience of potential clients. Users are typically encouraged to purchase and keep the new startup's coin for a while in exchange for hefty rewards.
Binance Earn
It gives users the option to lock their coins in this specification for a specified time frame (usually 30, 60, 90, or 120 days) at a predetermined interest rate. Earnings are added to your account every day. You can't withdraw cash from the pool before the ending time. 
Spot trading
With the market limit and stop limit order types, you can purchase and sell cryptocurrency assets through this exchange segment. Spot trade involves actual assets. Therefore after  buying, you will have such items in your wallet. You own these coins, so it is up to you to deal with them. You can store, invest, and exchange them for a higher price in the future. 
Want to Develop Binance Clone App?
Building blocks of crypto exchange: The architectural blueprint
Without a good understanding of the architecture, it is difficult to launch a crypto exchange. To learn more about how to build up your own cryptocurrency exchange, let's take a closer look at the general CEX architecture. 
In a word, your resource's architecture refers to the structure that determines the placement and interdependence of each system component. It includes a functional and visual illustration of each element's operation information on the algorithm or hierarchy and the various actions that each element sets off. 
UI components for all sites, trade logic, APIs, security features, and platform databases are in  typical architecture. You must identify the technology stack of your project, including the blockchain, front-end/back-end tools, and technologies, in order to design a functional architecture.
The security layer is important in the CEX's architecture. It should include various security layers for user operation, such as multi-step user verification and authentication.  
All the architectural considerations we just went over must be kept in mind when working on a CEX project, and the design modification to align with the high load requirements of such platforms. With the help of cryptocurrency exchange companies, you can integrate the required architectural components during the discovery phase to save time and cost during the development. 
Key features of the crypto exchange platform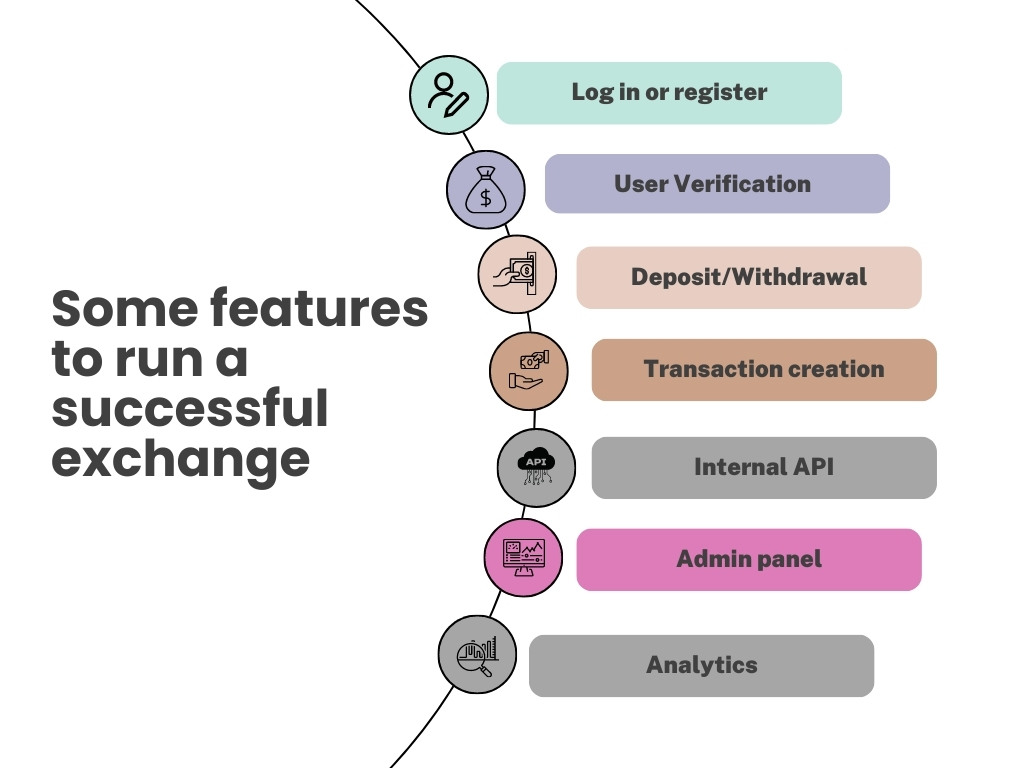 Before getting into "how to develop a cryptocurrency exchange?", Here are some features to run a successful exchange. 
Log in or register
You can create new accounts and sign in to already existing ones should be given by your CEX. This functionality needs to be safe and well-thought-out to guard against data breaches, data manipulation, and illegal access to user wallets. A login and password are the absolute minimum requirements. However, it is advised to use biometric login or two-factor authentication.
User Verification
Your CEX must implement stringent KYC standards to be known as a reliable, legitimate platform. Regulatory compliance for new users' identity verification is a must to activate their membership.
Deposit/Withdrawal
How can you launch a cryptocurrency exchange without allowing users to add, remove, or move money? No way is the response. Therefore, you must ensure that money may flow freely and with little fees into and out of the exchange. 
Transaction creation
Any business activity carried out by CEX focuses on the creation of transactions. It ensures users can place various buy and sell orders without technical difficulties. This capability is platform specific and often includes limit, market, and stop limit orders for exchange trades P2P orders between users.
Internal API
APIs allow users to exchange data directly on the platform and make automated trading easier when using external platforms with more features.
Analytics
Every user can access activity tracking and other analytical tools for assessing the legitimacy of a deal.  For real-time trading data and indicators, it is usual to practice linking your platform to TradingView. However, there are intriguing in-house capabilities that you can employ to augment TV capability.
An admin panel
An admin panel makes it possible for you to keep user behavior under control. Only users with admin privileges have access to this unique panel.
Get free more consultation for binance clone development
Crypto exchange checklist: what to look out for before you launch!
The success of your CEX business is not only based on the most brilliant business idea. Which obstacles, then, must be taken into account while setting up your own cryptocurrency exchange?
Location
The initial CEX setup influences the nation you are from, as regulatory changes led several successful platforms to shut down or exit the markets in China and India. Before opening the CEX, extensively investigate the regulatory landscape for cryptocurrencies to identify a location with little risk.
Funds 
Having a thorough plan for raising money is the next crucial step. How would you like to finance the investment in your project? Will you use crowdsourcing sites, seek out venture capitalists, or go after an IEO/ICO? 
Exchange type
Before beginning the project, weigh the advantages and disadvantages of custom CEX creation vs a white-label solution.
Security
You must be familiar with the security requirements for CEXs before creating the platform. High-level security may ensure the user funds and save you from penalties and fines. 
Regulatory compliance
How is the crypto exchange set up to operate smoothly and complication-free for years to come? The correct response is the current legal and regulatory framework in your area. Consider the users you'll wish to accommodate. What rules apply to cryptocurrency where they are? What legal foundation does your country's CEX have? Incorporate all of these concerns into the CEX design to prevent costly penalties or the entire delisting of your project. 
Management of Liquidity
For CEX to succeed, liquidity is essential since it ensures less slippage. To ensure that your users don't experience a delay in their transactions, you need to create liquidity pools or borrow liquidity from other channels.
Marketing
It makes no sense to start a project that no one knows. In order to make people wait for the debut of your CEX, you must prepare an attention-grabbing, viral social campaign. Utilize ambassador and referral programs to involve as many individuals. This investment in people will pay off with a rapid rise in user adoption and the size of the user base.
With these steps, you can develop your exchange platform
Let's move on to the technical discussion of how to build a cryptocurrency exchange like Binance. These are the crucial actions your development team will do.
Choosing a Blockchain 

Design

Front-end development

Back end development

Testing

Security
Why Opris help you develop crypto exchange?
Now that you are more aware of the creation of crypto exchange platforms like Binance Clone Script you can move on with the project without delay. For your CEX project, the main goal is to design a thorough plan and roadmap so that your software provider like Opris can follow it and produce a project that meets your standards. A clear plan also makes budgeting easier so that you don't have to stop constructing your crypto exchange because you ran out of funds.
With an original, safe, and feature-rich CEX project, you can gain a well-deserved position in the still-booming cryptocurrency market. Don't be late to start this path if you work with the Opris team's trained and experienced blockchain development team your project will succeed. Opris is a cryptocurrency exchange development services company that deals with all crypto projects and clones.
Have an idea to develop a cryptocurrency exchange like binance?