The demand for cryptocurrency has seen a steady rise and consistently increased since 2010. This revolution happened to the entire fintech industry by introducing cryptocurrency exchange applications. The primary factor driving the market's growth is the growth of distributed ledger technology & decentralized networks. The global cryptocurrency market is projected to grow from $910.3 million in 2021 to $1,902.5 million in 2028 at a CAGR of 11.1% in forecast period, 2021-2028, which is equivalent to the world's 7th largest economy by GDP. 
Therefore, the lucrative prospect of cryptocurrency exchange solutions grew manifold. However, cryptocurrency exchange applications like binance, coinbase and others etc, have become a mainstream form of business due to demands of cryptocurrency. It has increased a sudden demand for ecosystems that capitalizes on serving the needs of crypto users across the globe.
One most prominent among them is binance. Binance have become a vital role of this growing cryptocurrency exchange platform by allowing global traders to transact(buy or sell) cryptocurrencies through their quick exchange solutions with secure & reliable. Binance has gone on to attract the attention of cryptocurrency exchange startups. This is to capitalize on their revenues and their increased traders base.
Want to know more about them? Continue reading to understand the basics of the binance app, its operations, and the business model it has adopted to gain a perspective of how it streams revenue.
All About Binance
Binance was a strong cryptocurrency exchange registered in China first but in 2017 became registered in the Cayman Islands. Its founder, Changpeng "CZ" Zhao. During a poker game in 2013, Zhao first learned of the potential of bitcoin. Soon after, he decided to go all-in on the cryptocurrency, selling his apartment to buy as much as he could. 
Binance cryptocurrency exchange platform that allows traders to buy/sell their cryptocurrencies as they want. Thanks to the quick and reliable operations of Binance, it has attained a great amount of popularity and holds a great standing in the market.Look at the attractive trader base below to gain insight into the lucrative nature of the exchange platforms and an understanding of its overall standing.
Binance became the number one most highly rated crypto exchange – largely a result of fast, reliable, low-fee trading. It added futures and margin trading to make it more competitive with similar services. 
Zhao also released the Binance Coin (BNB) to allow users to trade and pay fees on the Binance platform.
Top Statistics Depicting Lucrative Scope of Binance
Binance is still the biggest crypto exchange in the world.

Binance was launched with an ICO worth $15 million.

BUSD exceeded $17 billion in market capitalization during the first half of 2023.

Binance's revenue amounted to around $20 billion in 2021.

Binance Labs has set aside $500 million for Web3 and Blockchain projects.

Ending June 2023, BNB Smart Chain's TVL dominance equaled 8.66%.

The Binance.us number of users was 2.5 million in August 2023.

14 out of 25 most played NFT games use the Binance Smart Chain.

Binance has the largest NFT marketplace in the world.

Binance burned 1,959,595.29 BNB in its latest quarterly burn.

Binance's CEO has a net worth of $18.5 billions.

Over 90% of users are male and the average age is 35 years old

Binance Coin has a market cap of $70 billion as of October 2021. 168 million coins are currently in circulation.
These numbers give an estimate of the overall popular nature of the Binance successive & stable growth.
Binance Business Model
Check the image below to take a glance into the business model of Binance to understand how the cryptocurrency exchange business solution works.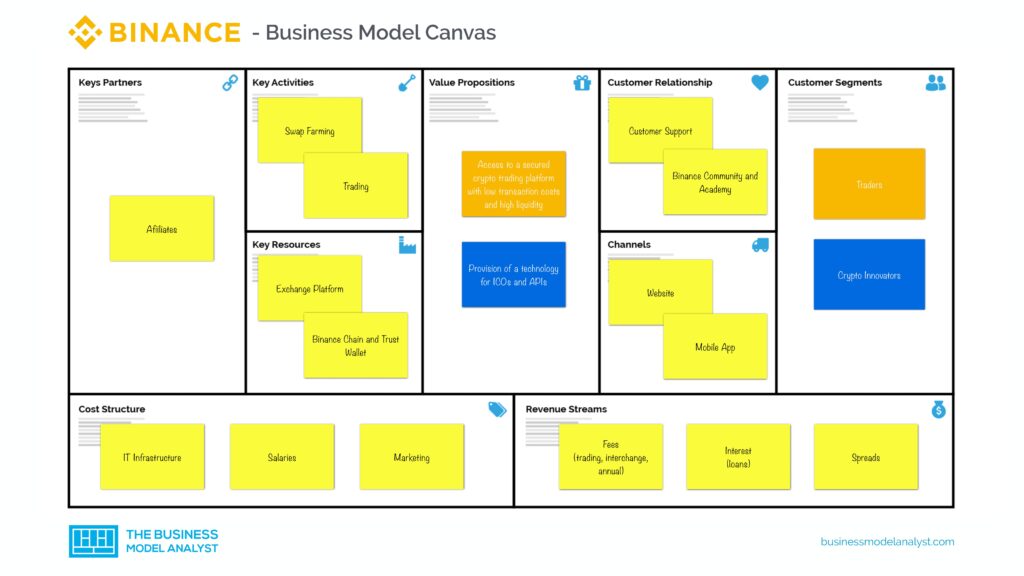 Each of these segments has an individual app and website that allows them to carry on their operations with an added level of convenience.
Binance Value Proposition for Traders & Investors
Binance has been continuously working to increase the freedom of money for people around the globe. Overcoming a lot of struggles, binance coming with new solutions to value for crypto users engagement, and growing traders community. 
Traders
Accessibility to a safe cryptocurrency trading platform with great liquidity and minimal transaction costs; 
Crypto Innovators
Binance Labs, a technological incubator, and LaunchPad, a hosting platform for new projects and API interfaces, respectively, are available to nurture promising pre-ICO initiatives.
Binance CEO Changpeng Zhao (CZ) said, 
"We view crypto as a fundamental means to increase the freedom of money. As such, we work hard to promote the adoption of crypto. All of our products and services contribute to that goal, and being user-focused is our key driver."
Binance business core values 
Binance makes every business decision to upgrade their platform, they think with these factors to be considered.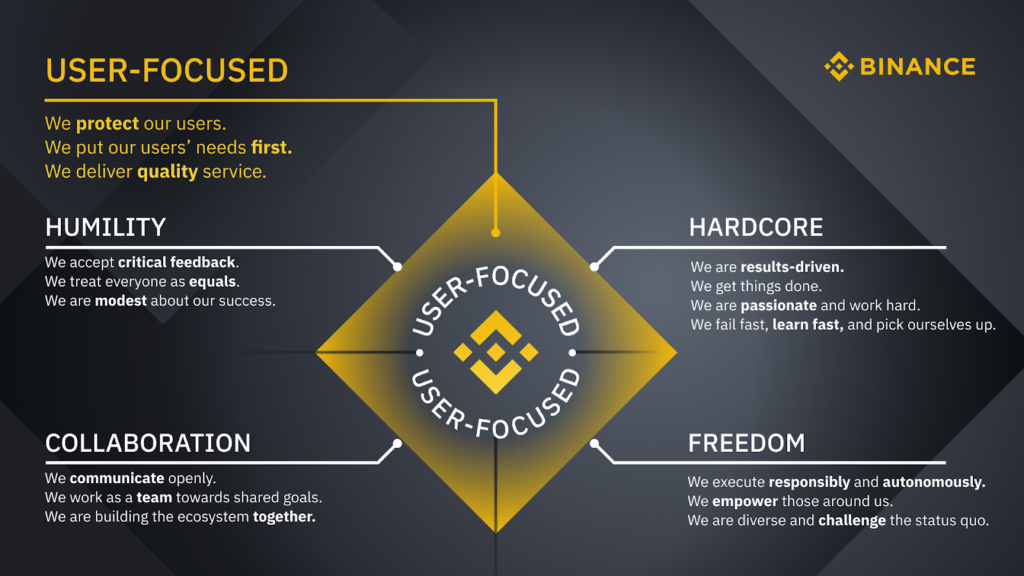 If you look ahead to the next 3-10 years, Binance continue installing their core values to building blockchain and cryptocurrency exchange solutions and infrastructure for the future of finance.
Binance Revenue Model – How It Makes Profits
Binance has revenue generation comes from six key areas:
Check out this image to get an overview of how a binance exchange application makes money and streamlines its revenues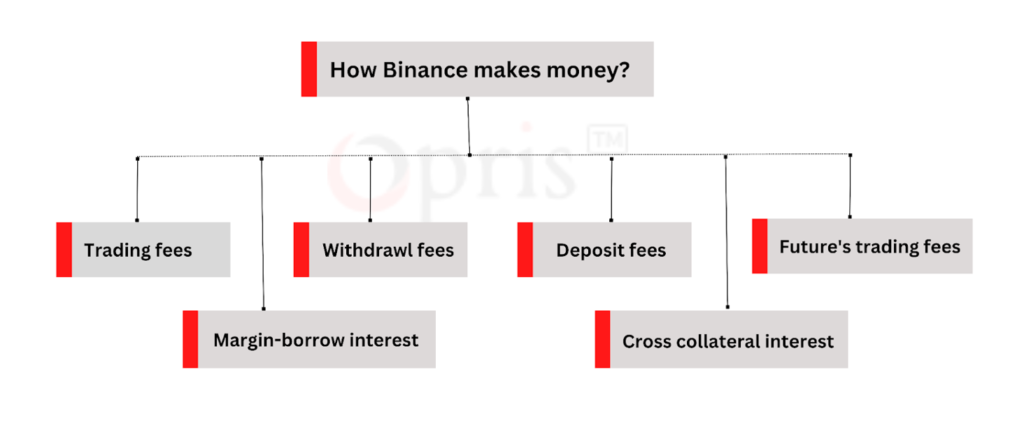 Trading fees
Binance generates a significant portion of its revenue from trading fees.
The fee range from 0.02% to 0.10% depending on the trade volume, and Binance reported $4 billion in income from trading fees alone in 2021.
The exchange offers competitive fees compared to other platforms, which attracts a large number of users.
Withdrawal fees
Binance charges a fee for withdrawing both cryptocurrencies and fiat currencies from the platform.
The withdrawal fees may differ on the currency and are relatively low compared to other popular exchanges.
In 2021, Binance generated $1.1 billion in revenue from just withdrawal fees, which is a testament to the huge number of users who utilize the platform for their trading needs.
Deposit fees
Binance does not charge fees for cryptocurrency deposits but may charge fees for fiat currency deposits.
A deposit fee of 4.5% is also charged for those who want to add fiat currencies to their account using a debit card.
This gives users the choice to deposit and withdraw in several currencies while also generating income for the exchange.
Margin-borrow interest
Binance offers margin trading services that allow users to borrow funds to trade with leverage.
Depending on the currency and the quantity borrowed, Binance may charge a different interest rate on the borrowed money.
Binance produces revenue in another method by charging interest rates ranging from 0.02% to 0.1% each day.
Futures trading fees
Binance offers futures trading for cryptocurrencies, which allows users to speculate on the future price of various assets.
Charges fees for futures trading, which range from 0.02% to 0.1% depending on the trading volume.
 In 2021, Binance reported $2.3 billion in revenue from futures trading fees.
Cross-collateral interest
Binance offers a cross-collateral feature that allows users to use one asset as collateral for borrowing other assets, it supports four collateral coins: BTC, EUR, ETH, and BUSD.
Binance charges an interest rate on the borrowed funds, which varies based on the asset and the borrowing amount.
The interest rates range from 0.02% to 0.1% per day, and this is another way that Binance generates revenue.
Want to develop a cryptocurrency exchange app like binance ? Follow These Steps
Conduct Thorough Research
Conduct thorough research on the cryptocurrency exchange market and the trader's needs to get an insight into the cryptocurrency exchange applications you should build to serve these end-users better. Since you plan to develop an app like binance, analyze a few vital aspects.Once you have clarity of the business aspect, you can enter into the second stage of binance clone script  knowing app operations.
Know how exchange application functioning
There are segments in the cryptocurrency exchange app ( user, admin ) . Hence, when you plan to build a cryptocurrency exchange application like this, you must have knowledge of its operations for these two.
Have Knowledge about Tech Stack Information
To ascertain the cryptocurrency exchange works in a fully functional and robust way without facing any incidents of crashes, have information on technology stacks.
Use these to allow the app to operate well.
Take a peek into the technologies that will come in handy.
Programming Languages: React Native, Flutter, Java, Swift, Kotlin
Backend & API: Node.JS/Express.JS
Front-end: React.JS
Database: MongoDB, HBase, Postgres
Push Notification: Twilio, Push.io
Cloud Environment: AWS
Blockchain Network: BNB, Ethereum etc..
Smart contracts: Solidity, C#, Python
Binance is a cryptocurrency exchange that allows users to trade a variety of digital assets. It offers a platform for buying and selling cryptocurrencies, as well as additional services such as staking, lending, margin trading, and more.
The business model of Binance is primarily based on earning revenue through transaction fees charged to users who trade cryptocurrencies on its platform. In addition to this, Binance also generates revenue from various other sources such as staking, margin trading, lending, fiat-to-crypto services, and more. Binance also uses its native token, Binance Coin (BNB), to incentivize users and generate additional revenue.