White Label Cryptocurrency Exchange Software – A Complete Guide for Startups and Entrepreneurs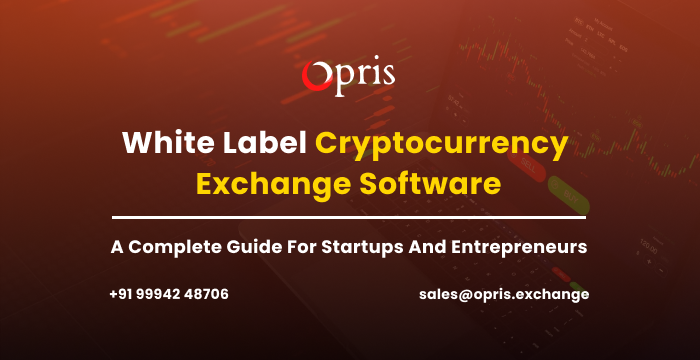 Introduction
Do you want to know what White label software is and how it may help your business? Check out this blog to learn more about how white labeling works, the benefits of White label software, and the various types of software available.
What is Cryptocurrency Exchange Software?
A crypto exchange is a business that enables users to trade cryptocurrencies for other assets like fiat money or other digital currencies. Crypto exchanges may accept payments made with credit cards and other payment methods.
How Does White Label Crypto Exchange Software Work?
For Users
1) The user must first register in your White Label crypto exchange software to trade or exchange.
2) Following registration, a confirmation email reaches the registered email address.
3) For KYC approval for withdrawal, the user must input his financial information. The user will not be required to provide any KYC verifications to deposit or invest in any cryptos on your exchange.
4) The user can engage in a variety of trading activities based on experience.
5) There are no restrictions on exchanging or trading cryptocurrencies on your cryptocurrency exchange.
6) The user could raise a ticket if any queries get addressed.
For the exchange owner
1) The customizable program uses the Liquidity API to run in an automated mode
2) You can generate money in various ways, including transaction fees, freemium fees, and Google ads.
3) Your crypto exchange platform may provide a high ROI because it has the potential to generate income returns in a short period.
Why Do Businesses Need White Label Cryptocurrency Exchange Software Solutions?
There are numerous advantages to developing a cryptocurrency exchange software development services-based platform. Here are the most important benefits:
The fastest way to enter the crypto market:
The best White Label Crypto Exchange Solution is accessible globally. Reputable White Label Cryptocurrency Exchange provider launches White label exchange software. It is far more appropriate and faster than creating a cryptocurrency platform from scratch.
Top-notch customer service
Businesses may concentrate on providing excellent cryptocurrency exchange development services because they do not have to worry about the back-end operations of the digital currency exchange. It assists business owners in providing the finest exchange experience for their customers.
Lower costs
A White label exchange software may be less expensive to launch than building a crypto platform from the ground up. There is no need to purchase overpriced infrastructure or conduct marketing efforts, which can save firms money and give customers more affordable White Label Cryptocurrency Exchange services.
Greater flexibility
A White Label Crypto Platform is customizable to fulfill unique corporate needs. White Label service provider includes additional tools and KPIs based on the requirement. With the ability of all businesses to construct a White Label Crypto platform expressly for their sector, efficiency will increase, and prices will decrease.
Increased brand awareness
A White Label option offers firms a valuable opportunity to raise brand awareness because the crypto exchanges brands with corporate design. As a result, potential buyers will regard it as a reliable source of information regarding the cryptocurrency sector.
Enhanced Security
White Label Crypto Platform enhances security measures to safeguard data. The blockchain's design records transactions from being modified. There are additional safety measures like 2FA and much more. Furthermore, the website employs SSL encryption to protect data throughout the transaction, which aids in ensuring that information is not hacked or stolen.
Customer support
The multilingual team is ready to handle technical concerns 24/7. The Best White label cryptocurrency exchange software launched with the expert's guide. The experts also provide the best support for enhancing the functionality of the crypto exchange.
Factors that Affect the Cost of Developing White Label Cryptocurrency Exchange Software
The price of developing White label cryptocurrency exchange software depends on various factors. The experience of the developer matters and the willingness to deploy a commercial license or create their software is another aspect.
Before hiring the top cryptocurrency app developers to create your software, consider the following points in detail:
a) Security
b) Number of Features
c) User Interface
d) API Integration
e) KYC Approval & AML Validation
f) Multiple Coin Support
g) Custom Admin Panel
h) Robust Architecture
Benefits of Our White Label Crypto Exchange Software
Time and costs
Even with the best programmers and designers on your team, creating a new product is time-consuming and expensive. Creating error-free software is full of obstacles and frequently necessitates a lengthy learning curve.
While developing White Label Cryptocurrency Exchange Software also requires some learning and training, the process is far quicker. Many software companies already offer training materials, FAQs, and a support team to assist consumers with the product.
Purchasing the best White Label Cryptocurrency Exchange Software enables you to save time and money. They can use the time to advertise, brand, and commercialize White Label Cryptocurrency Exchange Services.
Quality
White Label Software is a tried-and-true solution that has been successfully released in the market and adopted by various enterprises. Since the product has undergone a process of trial and error to resolve bugs and bring the software up to the highest quality standards based on internal expertise and external user inputs, this ensures a certain degree of quality.
The top White Label software companies also consistently seek to enhance their offerings, including new features and address client demands, criticism, and suggestions. As a result, the program outfits the market's most cutting-edge technologies.
Scaling
White Label Software is technically complete and ready for sale. Consequently, businesses can scale up their operations more effectively and grow when they are in good financial standing and are well-known in their industry and marketplaces.
Branding
As previously said, the distinguishing feature of white label software is the ability to "make it your own," personalizing it to display your branding colors and general visual identity. The end user will see your brand name and logo when they access and navigate the app. The White Label Crypto Exchange Solution serves as a customer touchpoint by bringing your brand to life in a virtual environment.
White label exchange software can help you generate confidence and favorable brand connotations by associating your brand name with a certified and dependable product, raising visibility and recognition.
Security And Support
When you purchase White label software, you gain access to a team of professionals who work around the clock to keep the product up-to-date and secure. As cybercrime grows and gets more sophisticated, it is critical to do an application security audit regularly, which can be expensive and time-consuming to perform internally.
Furthermore, if any technical issues happen, the software developer's support team will handle them quickly and efficiently.
Reasons to Consider a White Label Service Provider
White Label Cryptocurrency Exchange Development Company has extensive experience in the Cryptosphere. They create White label crypto exchange software for investors wishing to build a hassle-free cryptocurrency exchange. White Label service providers offer a multi-tested and ready-to-deploy White Label Crypto Exchange customizable to meet the client's requirements.
1) Customized deployment based on business requirements
2) Cost-effective solutions
3) Front-end warnings for market fluctuations
4) Extensive data analysis capabilities
5) Guidance from crypto experts
6) Application support
7) Upgrades
8) Security patches
9) On call support
10) Infrastructure maintenance
11) Complete stability with zero downtime
Cost to Create a White Label Cryptocurrency Exchange Software
The White Label Crypto Exchange Solution provider you select will determine the cost of starting a cryptocurrency exchange. However, it also depends on the trading features you decide to enable on your crypto exchange. There are some key aspects to consider while developing a crypto trading platform. As an example,
a) Maintenance
b) Server
c) Staff costs
d) Payments to vendors
e) Blockchain infrastructure
f) Legal
g) Bank transfer fees
Get Customized Solutions
Our White Label Crypto Exchange is sturdy, secure, quick to deploy, and cost-effective.
User panel:
1) Displays current balance
2) Displays the present Buy and Sell Price.
3) Send cryptocurrency and receive cryptocurrencies
4) Buy cryptocurrency and Sell Cryptocurrencies
5) Load balance and withdraw balance report.
6) The history tab shows transaction history for the past week, one month, and six months
7) The cryptocurrency trend for the past week, one month, and three months trends.
Admin Panel:
1) The admin panel displays the dashboard, Users, Buy-Sell, and Send-Receive transactions.
2) The dashboard gives a view of the running exchange and the transactions in BTC for the past week, past month, and last three months.
3) The view user status shows user details. It also portrays the document status of each user.
4) The Buy-Sell tab captures the transaction Id, time stamp, amount, and description.
5) The view Send-Receive tab captures the details of the sender or receivers like email id, description, transaction id, timestamp, etc.
Order book:
1) The Bid table summarizes the bid and asks tables for BTC, giving the Bid Id, Amount, and Quantity.
2) The payment order dashboard displays information such as Name, Email, Phone, Amount, Beneficiary Bank Details, and Transaction Status.
3) The balance monitoring dashboard displays the cryptocurrency node balance for each cryptocurrency.
4) The withdrawal request panel accepts requests, which records the client, beneficiary, bank details, amount, status, and action.
5) The multicurrency user interface will display the various cryptocurrency balances.
6) The pending transaction list shows the transactions that are waiting for admin approval.
Conclusion
It is simple to grasp cryptocurrency trade. The methods for starting a crypto exchange firm enable any business to enter this lucrative market. Following the factors described in this piece, an entrepreneur can design the best crypto exchange website or app. Hire a skilled team from a White Label Cryptocurrency Exchange Development Company as soon as feasible to begin your adventure. In this market, it is critical to have a team with the necessary skills.
If you are looking for Cryptocurrency exchange development services, then Opris is the best choice. Opris offers the best cryptocurrency exchange development services and White Label Crypto Platform at a budget-friendly cost. Book a free demo today!