Spot trading on a cryptocurrency exchange entails buying or selling cryptocurrencies right away at the current price. Users can directly purchase or sell digital assets on the exchange, and all transactions are instantly completed. It's an easy process that's great for beginners, and you own the actual coins, which you can hold or move to a personal wallet. Spot trading is just plain old buying and selling; there are no derivatives or futures contracts involved. With the right white label spot trading development services provider, you can start your business.
Introduction
Spot trading crypto exchange functions like a real-time marketplace. Businesses can quickly buy or sell a variety of cryptocurrencies at the going rate on the market. Similar to a stock exchange, it enables businesses to manage their crypto holdings effectively, optimize investment strategies, and react quickly to market dynamics to seize opportunities or reduce risks. In this blog, we will go through spot trading crypto exchange development, why to invest and its features.
What is spot trading?
Spot trading is the instantaneous purchase or sale of financial assets, such as cryptocurrencies at the market rate. This technique gives businesses the ability to execute transactions right away, assisting in effective liquidity management and risk reduction. In order to take advantage of market fluctuations and make timely investment decisions that maximize profit realization, spot trading's speed is essential. Spot trading is, in essence, a crucial tool for companies looking to succeed in the volatile financial environment.
Digital currencies like Bitcoin, Ethereum and Litecoin are frequently traded using spot trading. But you can also spot trade other financial features and commodities using cryptocurrencies. OTC platforms, online payment gateways, and cryptocurrency exchanges can all be used in to create a spot trading crypto exchange.
Why businesses should invest to create a spot trading crypto exchange?
Businesses should invest to build and launch a spot trading cryptocurrency exchange to capitalize on the enormous potential of the developing cryptocurrency market. Creating a platform for spot trading enables instantaneous transactions at current market prices, drawing a variety of traders looking for timely trades and the best prices. In addition to creating new revenue streams from transaction fees, this investment raises brand recognition and credibility in the cutthroat cryptocurrency market.
Furthermore, as the market for cryptocurrencies expands, offering a dependable spot trading platform places the company at the vanguard of the digital financial revolution, encouraging growth and laying the groundwork for new projects and innovations. With the help of spot trading crypto exchange development services provider, you can create a best trading for your business. You can also customize and match it based on your business requirements with spot trading crypto exchange software developers.
How does spot trading work?
A spot trading cryptocurrency exchange serves as an instant marketplace for buying and selling cryptocurrencies at the current price.
Investors will likely keep using the market order to buy or sell assets on trading platforms at the best available spot price in the near future. For transactions on the spot market, a number of well-known cryptocurrencies will continue to be in high demand, including Fiat, Ether, BNB and even Bitcoin. Spot traders will most likely continue to rely on a combination of fundamental and technical research strategies to make informed trading decisions.
Decentralized exchanges (DEX), centralized exchanges, and over-the-counter markets (OTC) will continue to support spot trading. Investors will still need to deposit funds into their accounts in order to use centralized exchange. On centralized exchanges, commissions may still apply to prices, transactions, and other trading activities. In the competitive cryptocurrency market, it's critical to offer a user-friendly interface, guarantee liquidity, and build trust in order to draw traders and build a long-lasting, successful exchange.
Business benefits of choosing to start a spot trading cryptocurrency exchange development?
Starting a cryptocurrency exchange development for spot trading has significant business advantages. First of all, it offers a profitable business model for collecting fees from token and coin transactions and listing fees. An exchange can also make money by charging fees for deposits and withdrawals. These fees can result in significant profits as the user base expands.
The brand value and credibility of a well-designed crypto exchange can also be increased, luring more users and promoting more trading activity. Additionally, it may present chances for joint ventures and other forms of cooperation among participants in the cryptocurrency ecosystem, thereby increasing the business community and enhancing revenue diversity.
Overall, launching a spot trading cryptocurrency exchange development can be a wise and successful business decision, providing advantages in terms of money, market positioning, and growth prospects within the dynamic and expanding cryptocurrency landscape.
Prominent features used to develop a spot trading on binance
When you choose to build a spot trading crypto exchange on binance, these are some of the features that software developers must offer. In any spot trading crypto exchange development solution provider, we have included the following features
1. Admin panel
2. User authentication
3. User profile
4. Orderbook
5. Trade history
6. Market analysis tools
7. KYC/AML compliance
8. Multi-lingual support
9. Fiat integration
10.Staking
11. Yield farming
12. OTC trading
13. Token launchpad
Therefore, these are some of the most fundamental features to include when you start a white label spot trading development.
What are the types of spot trading?
Spot trading refers to the instantaneous purchase or sale of financial instruments for live market prices, such as commodities, currencies, or cryptocurrencies. The three main categories of spot trading: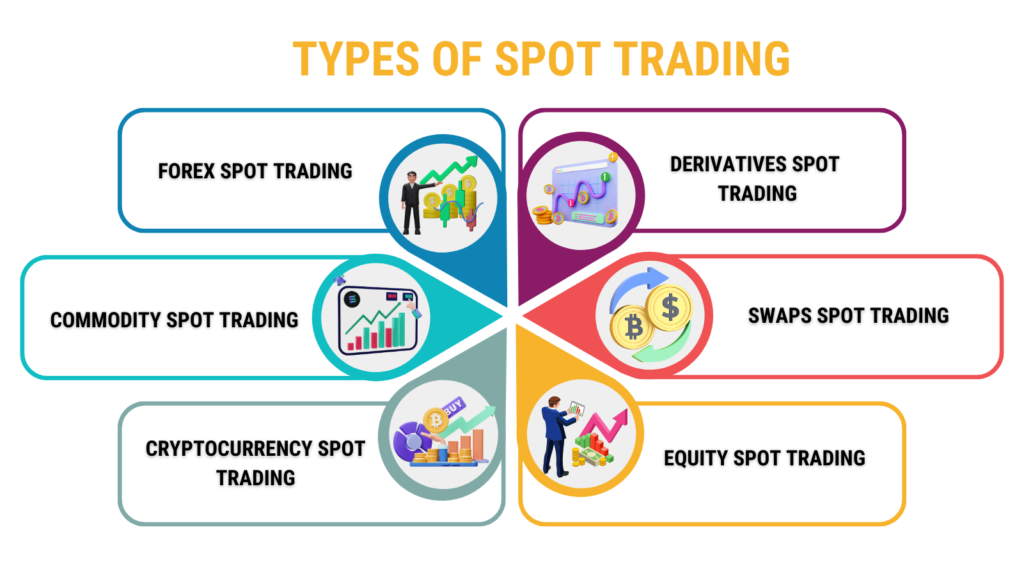 1. Forex spot trading
2. Commodity spot trading
3. Cryptocurrency spot trading
4. Equity spot trading
5. Swaps spot trading
6. Derivatives spot trading
Overall, these are some of the following types of spot trading development that a business can start to build.
How to create a crypto spot trading exchange?
Building a successful cryptocurrency exchange for spot trading is a significant challenge for startups. However, developing with the best spot trading cryptocurrency exchange development company is comparatively easy. Hiring an independent spot trading crypto exchange development services provider is the first option. While this strategy may be beneficial for some companies, outsourcing can present its own set of difficulties.
When you decide to launch a crypto spot trading exchange, a thorough market analysis to determine user needs and preferences is the first step in developing a spot trading cryptocurrency exchange. Create a user-friendly and secure platform with tools like wallets, order books, and strong KYC/AML compliance. Integrate a trustworthy trade matching engine, and collaborate with liquidity suppliers for efficient transactions. To draw users and ensure a successful venture in the cutthroat crypto market, put a focus on regulatory compliance, build strong customer support, and implement effective marketing strategies.
Why choose spot trading crypto exchange development services provider like opris?
Choosing spot trading crypto exchange development services provider like opris offers a tactical advantage. In order to ensure a safe and effective exchange platform, Opris offers expertise in Blockchain technology. The development process is sped up by their customized solutions, which incorporate market insights and compliance measures with the help of spot trading cryptocurrency exchange software development. Businesses can quickly launch a competitive spot trading exchange, draw users, and enjoy long-term success in the thriving cryptocurrency market by utilizing Opris's expertise. 
In conclusion: Spot trading crypto exchange
In conclusion, businesses have a lot to gain from developing spot trading crypto exchanges. Real-time trading is provided, boosting user interaction and market competitiveness. Businesses can take advantage of the growing interest in crypto trading by providing a solid platform, complying with regulations, and offering customized features. Spot trading exchanges are the doorway to a more accessible financial future, and they are urging companies to seize this chance for long-term success and relevance in the quickly developing crypto industry.