Crypto derivatives exchange development is creating a digital trading platform for cryptocurrency-related derivative financial products that are required for crypto derivatives exchanges. It entails developing a reliable and effective trading engine, integrating different derivative instruments like futures and options, ensuring regulatory compliance, and improving the user experience. The objective is to provide traders with a platform where they can make predictions about changes in the price of cryptocurrencies, manage risks, and diversify their investments using derivative products based on digital assets.
Introduction
Have you ever considered how a crypto derivatives exchange development might improve your business strategy? In this blog, we will explore about the growth of crypto derivatives exchanges has the potential to change the world. We break down the complex elements that can strengthen your market presence, including futures, options, and swaps. And also understand the features, benefits, and more on how to start a derivative exchange development. Get to know more about how to develop a best crypto derivative exchange for your business with the help of a top derivative exchange development services provider.
What is derivative trading?
Derivative trading is the way of engaging in financial contracts whose value is based on changes in the price of an underlying asset, such as stocks, commodities or virtual currencies. In order to profit from price fluctuations, traders who do not actually own these assets speculate on their future movements. Futures, options, swaps and forward contracts are just a few of the different derivatives that are available. Each has its own terms and objectives. Derivatives are used by traders to leverage opportunities on the international financial markets, diversify their portfolios, and hedge risks.
What is crypto derivatives trading?
Any cryptocurrency token is a feasible base asset for trading in crypto derivatives. In a financial agreement, two parties make a prediction about the price of a cryptocurrency in the future. Regardless of the market price, the parties agree during the first phase of the contract on a selling or buying price for the cryptocurrency on a specific day. As a result, businesses can benefits from changes in the value of the underlying asset by buying the currency at a discount and selling it at a premium. Therefore, with the help of the right crypto derivative exchange development solution provider.
When you build a cryptocurrency derivatives trading platform, it entails making predictions about the potential price changes of cryptocurrencies like Bitcoin and Ethereum using financial contracts referred to as derivatives. Without actually owning the assets, traders forecast price movements, giving them the opportunity to profit from both rising and falling markets. In the erratic cryptocurrency market, it provides a way to control risk and diversify investment approaches.
How is the scale of derivative crypto exchange development in the crypto market?
The cryptocurrency derivatives exchange development is enormous. With a CAGR of 19.1%, the market for crypto derivatives is projected to grow to $1.76 billion by 2026. Businesses can take advantage of this lucrative market by tapping into one of the over 250 crypto derivative exchanges that are currently active. The soaring trading volume, which exceeded $2.7 trillion in a quarter, highlights the enormous potential for businesses to prosper in this dynamic sector.
What are the most popular types crypto derivatives trading?
When a business decides to build and launch a successful derivatives crypto exchange platform, these are the well-known types of derivative exchange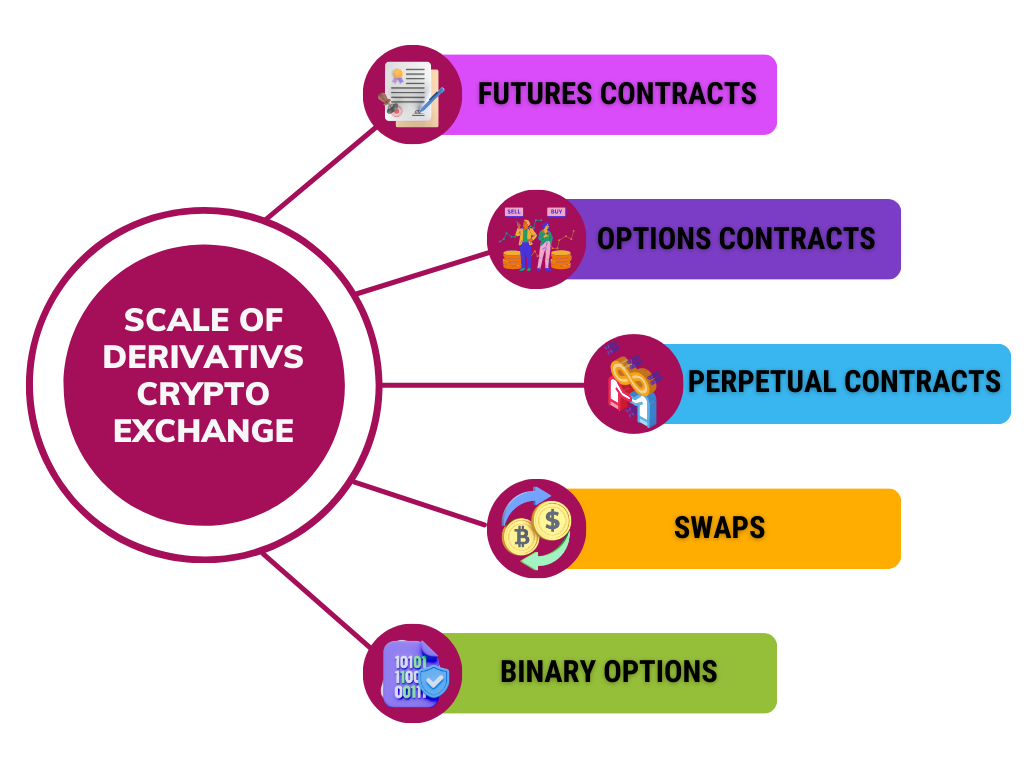 1. Futures contracts
2. Options contracts
3. Perpetual contracts
4. Swaps
5. Binary options
With the help of these derivatives, traders can effectively manage their portfolios in the cryptocurrency market, hedge against risk, and make predictions about price changes. Depending on market conditions and trader preferences, each might change. And with the right derivatives exchange development services, the developers will help you develop one.
Different types of modes supported in the crypto derivative exchange software
In our crypto derivatives exchange development solution, there are four different types of modes. These are the following types:
One-way mode
Your user can only trade derivatives in one direction, either a long or short portion, in a one-way mode. It means that only one trade can open at a time if a user wants to profit from the one-way mode of derivative trading.
Hedge mode
A one-way mode substitute is hedge mode. Regardless of their position, your users can select any quantity of positions in this mode. Here, users can choose between long and short positions.
Cross margin
Users must start with margin trading before engaging in perpetual trading or futures trading. To facilitate the order, users must use funds provided by the administrator. You can include this type of mode, to include when you develop a crypto derivatives exchange platform.
Isolated margin
Users can manage risk in the isolated margin mode based on the isolated liquidation rather than the total liquidation. For instance, liquidation is necessary when the maintenance margin's funds are in a precarious position.
These are the most popular options that we provide in our top-notch cryptocurrency derivatives exchange development services.
How does derivatives crypto exchange work?
A derivatives cryptocurrency exchange works by letting traders to make predictions about changes in cryptocurrency prices without actually owning the assets. Traders agree to buy or sell a particular asset at a specific price in the future by entering into contracts like futures or options. The market price of the underlying cryptocurrency determines how much the contract is worth. Exchanges for cryptocurrency derivatives are an essential component of the cryptocurrency trading ecosystem because they enable risk management, portfolio diversification, and potential profits from both rising and falling markets.
Best crypto derivatives exchange in 2023
Any investor or trader who wants to trade derivatives should always select the most reputable crypto derivative trading software development services provider, with high levels of security and liquidity. In light of this, let's investigate the top cryptocurrency derivatives exchanges.
1. Binance
2. Coinbase
3. Kraken
4. Bybit
5. Bitmex
6. Gate-io
7. Deepcoin
Overall, make sure that you conduct a thorough research before you start to create a crypto derivatives exchange. You can build and launch a derivatives trading software like anyone from the above and customize it with the help of your developers.
Advantages of starting a crypto derivatives trading software development
Businesses can get a number of advantages when they start a crypto derivatives trading software development. Starting a business to develop software for trading cryptocurrency derivatives offers several benefits:
1. High demand
2. Diverse products
3. Global reach
4. Scalability
5. Enhanced liquidity
6. Adaptability
7. Revenue opportunities
Creating a competitive and effective derivatives trading platform, requires a thorough understanding of the cryptocurrency market, technical expertise, and a business-centric mindset.
Top features of derivatives crypto exchange platform
To offer users a seamless and effective trading experience, a comprehensive exchange for crypto derivatives should include a number of necessary features. When you develop a cryptocurrency derivatives exchange crypto trading platform it will typically have the following essential features
1. Auto deleveraging
2. High leverage
3. Multi-layer security
4. Stop loss/take profits
5. Trading engine
6. User authentication
7. Order types
8. Trading pairs
9. Orderbook
10. Trade history
11. Risk management
12. Options trading
13. API integration
14. Notifications & alerts
15. KYC/AML compliance
These features can help create a user-friendly platform for a crypto derivatives exchange that attracts a wide of user into your derivative trading on binance.
7 steps to launch a successful cryptocurrency derivatives exchange
To launch a crypto derivatives exchange, with the help of developers, you need to carefully plan, develop, compliance, and market before it can be successfully launched. The following seven steps will help you get through the procedure: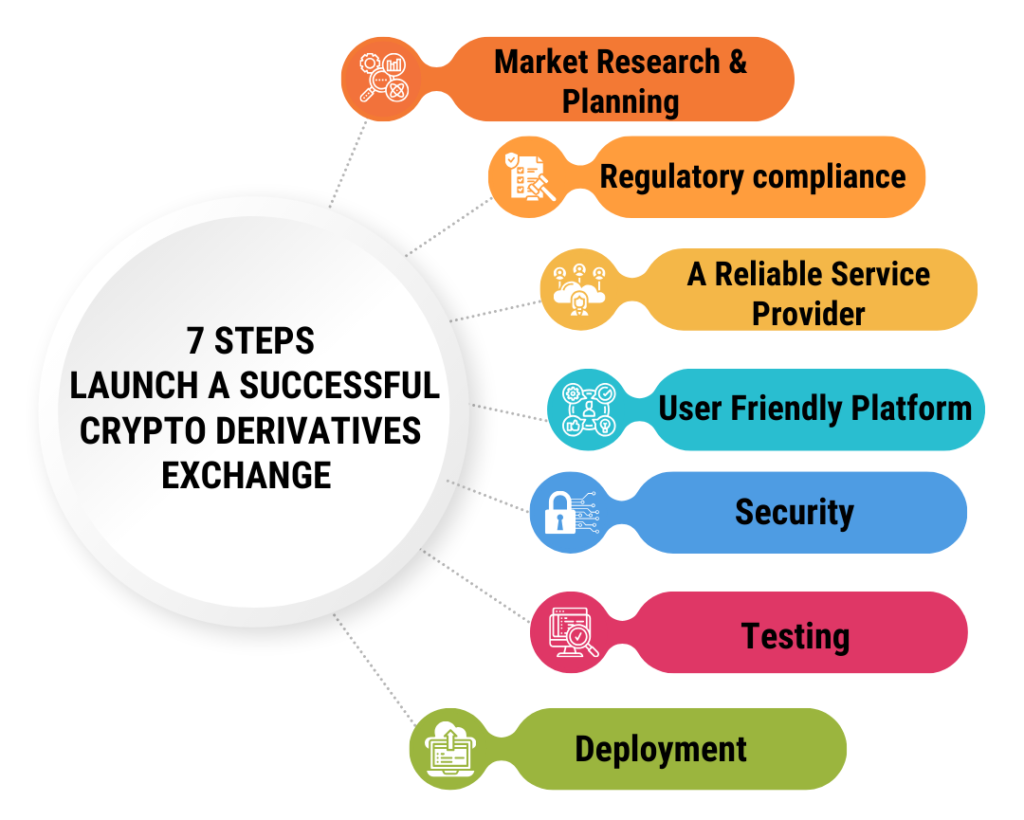 1. Market research & planning
2. Regulatory compliance
3. A reliable service provider
4. User-friendly platform
5. Security
6. Testing
7. Deployment
Your chances of successfully launching a cryptocurrency derivatives exchange increase if you carefully follow these instructions and make adjustments to the constantly changing crypto landscape.
Why choose crypto derivative exchange development services provider like Opris?
By choosing a crypto derivatives exchange development services provider like Opris is a strategic and easy process that help you develop crypto derivative exchange platform. Opris creates a skillfully crafted exchange by fusing technical expertise with a thorough understanding of market dynamics and user behavior. With a history of completed projects and a focus on the needs of the customer, they customize solutions to address changing industry needs, allowing your platform to flourish in the cutthroat crypto derivatives market.
To summarize
In the quickly changing world of finance, the development of crypto derivative exchanges offers a promising new frontier. This is an attractive business opportunity due to the potential for exponential growth, which is boosted by the rising demand for sophisticated trading instruments. Businesses can open new avenues of profit, innovation, and relevance in the dynamic world of cryptocurrency trading by embracing this evolution and building a strong exchange platform.